Looking at pictures online is helpful, but it just doesn't offer the feeling of a first-hand experience.
Although we have a strong work ethic and customer service oriented business that dates back to 1959, Elite Pools is not afraid to utilize technology to make things easier for our customers. Let's take a look at how drones are helping customers purchase pools in Maryland.
Drone Pool Tours Offer Ideas and Inspirations
Viewing photographs online is still a great tool, but pictures obviously have limitations. With drones, however, you get a much better idea of how a pool layout interacts with its surroundings and what is possible. The full pool tour a drone offers not only helps to provide you with examples of popular pool styles, but it also helps to inspire you to mix and match ideas and form concepts of your own.
Visualizing Your New Pool
Buying new pools in Maryland is just like purchasing a home; you want to be able to see yourself living in it and visualize the memories you can make with your family. With a drone pool tour, you can literally envision yourself splashing around and relaxing with your family and friends. After just one video, you can probably already imagine where your barbeque grill and lounge chairs are going!
Video Pool Tours Offer Reference Points
It can be difficult to pinpoint exactly what you want when you just have a small picture as a reference point, but video pool tours from drones help you work with a contractor to get exactly what you want. Elite Pools will know the exact video you are referencing, and you can more quickly identify your dream pool.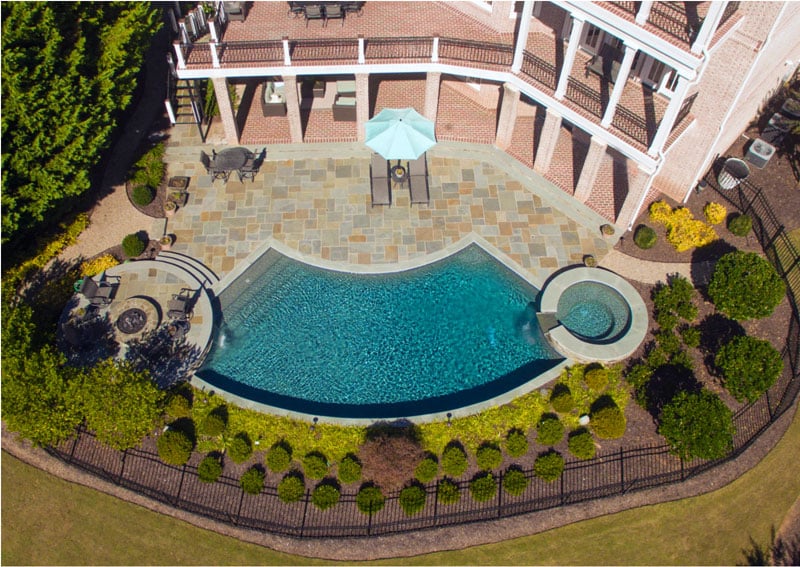 Visualize Your Dream Pool Today!
Since 1959, Elite Pools have striven to be the Mid-Atlantic's premier home pool design company, specializing in the design and construction of residential and commercial in-ground pools and spas. Whether you are building a new pool at your home or renovating your existing pool, we have the knowledge and expertise to deliver elegant, long-lasting swimming pool designs combined with resilience and durability.
Elite Pools can help make your dreams a reality. We use 3D modeling software to help you create a pool that not only fits your style and budget but also your landscape.
Choose from a variety of styles:
Vanishing Edge Pools
Free Form Pools
Interactive Play Pool Features, Such as Water Slides
Water Features and Rocks
Walk-in Pools
Lap Pools
Diving Pools
Spas
Pebble Tec® finishes
If you are ready to schedule your spring pool installation in Annapolis, MD, or the surrounding area, or would like more information on in-ground pools or other pool maintenance, then you've come to the right place. Please contact Elite Pools by calling 1-800-277-0254. One of our in-house licensed pool contractors will be more than happy to answer any questions you may have. We believe in putting the customer first!