I am extremely happy with Elite Pools. The tech came over, spent about an hour, and my pump is running better than it has in years. I can't wait for them to remodel my pool!
Dream, Build, Enjoy. That could not be any more true! Dustin took my dream, and made it better and built it. The quality and attention to detail is second to none. The service team has also been very pleasurable to deal with!
We were/are excited to do a pretty extensive pool, fireplace, fire pit, patio, and outdoor cooking area. We had made a request for design help. The owner and a member of his team quickly reached out to and I had a quote within days. How they responded to a customer was commendable. The owner was able to help us create a vision for what we wanted to create which was very helpful.
We had a pool built by Elite Pools last year. Dustin and his team were excellent throughout the entire installation process keeping up to date on everything that was going on and keeping to the budget as close as possible. Dustin provided a stress free experience that was second to none. Thanks Dustin and Elite pools for building us the pool of our dreams!
I wanted to let you know how very pleased I am with the transformation your company performed in my backyard. I had high hopes for the outcome, yet the job you did far exceeded even my highest expectations.
From day one, your company provided a high level of customer service, great communication and excellent work. You did exactly what you said you were going to do consistently throughout the project. There is nothing more for which I could ask! The job was on time, which I know is no easy thing to accomplish. The outcome is absolutely amazing! My backyard looks like a high-end, private club! Your attention to detail, your continuous communication and of course the resulting end product made this entire project a great experience for me.
Mike, I truly appreciate everything you did and your commitment to the job at hand. Many, many thanks to you and your team for an outstanding job!
We contracted to build a pool with Mike Shaffery and Elite Pools in the Fall of 2007. We choose Elite after interviewing two other pool builders. From the start, Elite Pools demonstrated to us that they were a step above the competition in the areas of project insight, design and value.
Their price structure consistently proved to be more favorable in almost all areas of the project. Additionally, Mr. Shaffery also provided much greater insight into the construction elements that are ultimately necessary to complete the overall project but are not the direct responsibility of the pool builder. Communication throughout the project was prompt and any of the minor issues that arose (and are so typical of any construction project) were addressed in a timely manner and to our complete satisfaction.
Overall, from comparing our pool to those of friends, neighbors and acquaintances we believe that the overall value and quality was superior.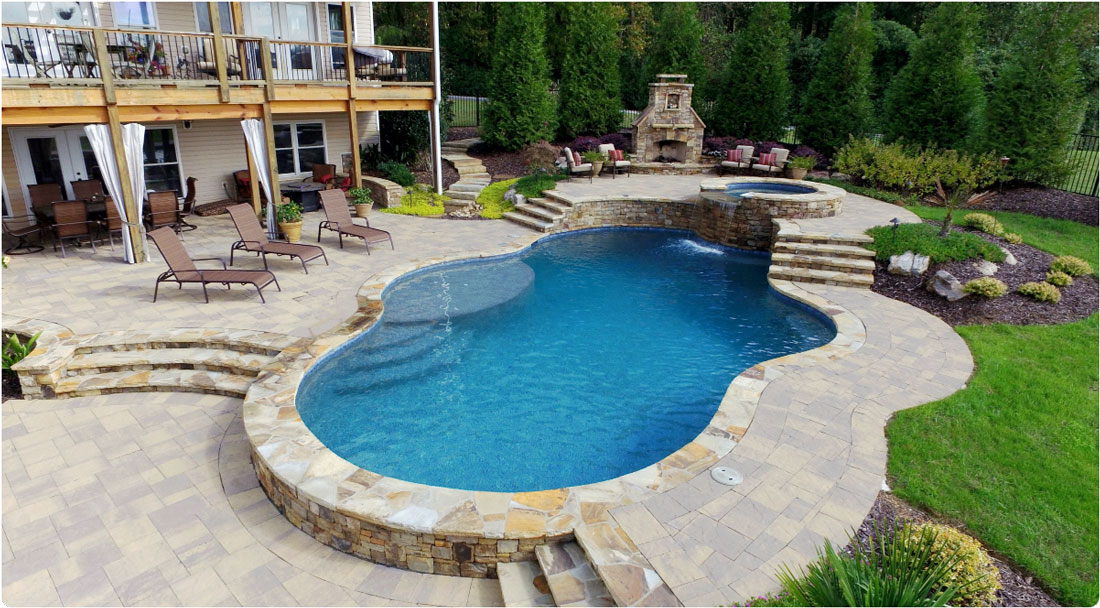 I apologize ahead of time for not expressing our gratitude sooner for a job well done. The words "well done" of course don't come close to how we feel about our "new" yard and room addition. We are completely ecstatic about our home. Everyday we wonder why we waited so long to do these improvements. We know now why – we had to have the perfect people from the perfect company doing it.
As for our new pool – WE LOVE IT!!! We have already enjoyed the spa several times and lately the kids have enjoyed the pool in the hot weather. Again, we thank Rich, Mark and Danny for their help in giving us a "paradise" to enjoy with our family and friends. The recommendation of Clearwater landscaping was very helpful and contributed to the overall vision of our new backyard.
We will be forever grateful that your company took on this huge project and did it in such a timely and efficient manner. We are still astounded, as are people we talk to, that this project only took 4 months. WOW!!! It was well worth the wait.
Thank you again and please let us know if a recommendation is ever needed. We highly and willingly recommend your company to all our friends.
As we come up on the one year anniversary for the ground-breaking of our pool, Cheri and I reflected back on what a positive impact it has had on our family. Since having our pool designed and installed by Elite, we have spent countless hours gathering around its' edges, playing with kids, talking with family and entertaining friends.
During the summer months, it has become the centerpiece of our recreation and relaxation. Being able to come home and jump in after hours on the lacrosse field, or hopping in after some long, hot days of yard work is truly a blessing and we are very grateful. We are also very thankful that we chose you and your company with this endeavor. From your first visit to discuss the design, to your input on features and layout, your knowledge of all things pool was very evident. We had a lot of choices when it came to pool companies and you did not disappoint when we chose Elite. Every chance we get, we recommend Elite pools and specifically mention your name so that whomever we talk to can take advantage of your knowledge and experience.
Our family extends our gratitude and appreciation to you and your company for providing us a lifetime of pleasure and satisfaction.