According to The Old Farmer's Almanac, the Ellicott City and Potomac, Maryland areas are in for a rough winter – "colder and snowier than normal." So, it may seem counterintuitive to start thinking about building a pool, but fall is actually the perfect time to begin the planning process. Winter may be coming, but spring will be here again before you know it. And wouldn't you like to be able to enjoy your brand new pool as soon as possible.
Planning Your Pool Installation in Ellicott City and Potomac
Spring is the perfect time to build your new pool. It is also the busiest time of the year for most pool builders. This is reason No. 1 why it is important to start planning your spring pool installation now – time. When the weather starts to heat up, so do swimming pool sales. So, unless you want to be pushed to the bottom of the list, you should schedule pool construction well in advance. As they say, the early bird…has a beautiful new pool come springtime. This also means that you will have more time to enjoy your brand new pool.
Another important reason to start planning now is budgeting. A new pool can be a pretty large investment, so it is important to know what you are willing to spend. With plenty of advanced notice, you can more easily save and budget for your new pool. Start putting away money every month to help cover construction and future maintenance costs.
Finally, you need to find a pool builder. First, ask friends and family for suggestions. Secondly, do your own research and compile a list of possible pool builders in the Ellicott City and Potomac areas. Next, start meeting with contractors and collecting estimates. Look for a contractor that meets all of your needs.
Reasonable price. Remember, price is just one part of the puzzle.
Well-established with plenty of experience.
Good standing with the Better Business Bureau.
A contractor you feel comfortable working with.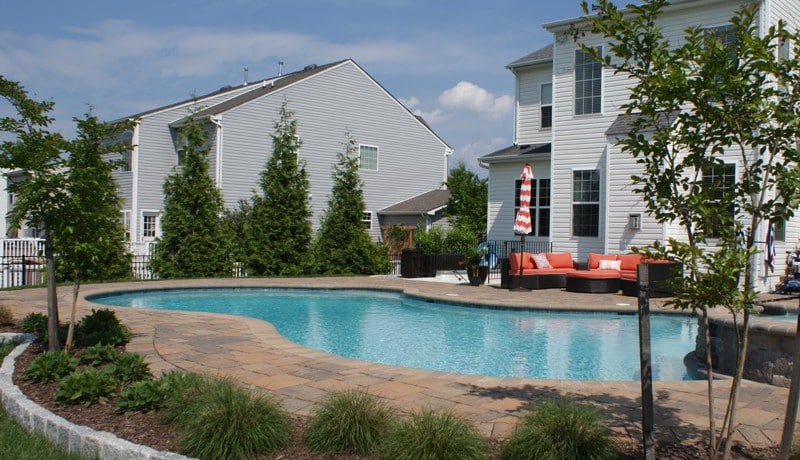 An Elite Pool Builder in Ellicott City and Potomac, Maryland
Since 1959, Elite Pools has striven to be the Mid-Atlantic's premier home pool design company, specializing in the design and construction of residential and commercial in-ground pools and spas. Whether you are building a new pool at your home or renovating your existing pool, we have the knowledge and expertise to deliver elegant, long-lasting swimming pool designs combined with resilience and durability. FREE Quote! Elite Pools can help make your dreams a reality. We use 3D modeling software to help you create a pool that not only fits your style and budget, but also your landscape.
Choose from a variety of styles:
Vanishing Edge Pools
Free Form Pools
Interactive Play Pool Features, Such as Water Slides
Water Features and Rocks
Walk-in Pools
Lap Pools
Diving Pools
Spas
Pebble Tec® finishes
If you are ready to schedule your spring pool installation in Ellicott City or the surrounding area, or would like more information on in-ground pools or other pool maintenance, then you've come to the right place. Please contact Elite Pools by calling 1-800-277-0254. One of our in-house licensed pool contractors will be more than happy to answer any questions you may have. We believe in putting the customer first!