At this point your pool has probably been open for a few weeks – just long enough for you to start noticing some issues. Initially you noticed several cracks in your concrete pool deck, but you figured you could just address those at the end of the season. Then you noticed the small tear in your pool liner. Again, you figured you could just come back to that in a few months. Then your pool equipment started to act up, causing your electricity bill to climb steadily these past few weeks. Enough is enough. Maybe it's time to stop ignoring these issues and start finding solutions, like pool repairs.
Common Pool Repair Issues
Is it time to call in the professionals? Well, if you find any of the below issues it just may be.
Liner Tears: If your vinyl pool liner has begun to rip or tear, liner repairs are certainly in your future. And be warned: the longer you put off repairs, the higher the likelihood that you will need to replace the entire liner.
Pool Deck Damage: Cracking, hollow spots, and chipping in gunite or concrete pools are very common swimming pool repair issues.
Pool Equipment Malfunction: Just like everything else, your pool equipment – pumps, filters, pool heaters, etc. – requires regular maintenance in order to ensure it is in proper working order and also running as efficiently as possible.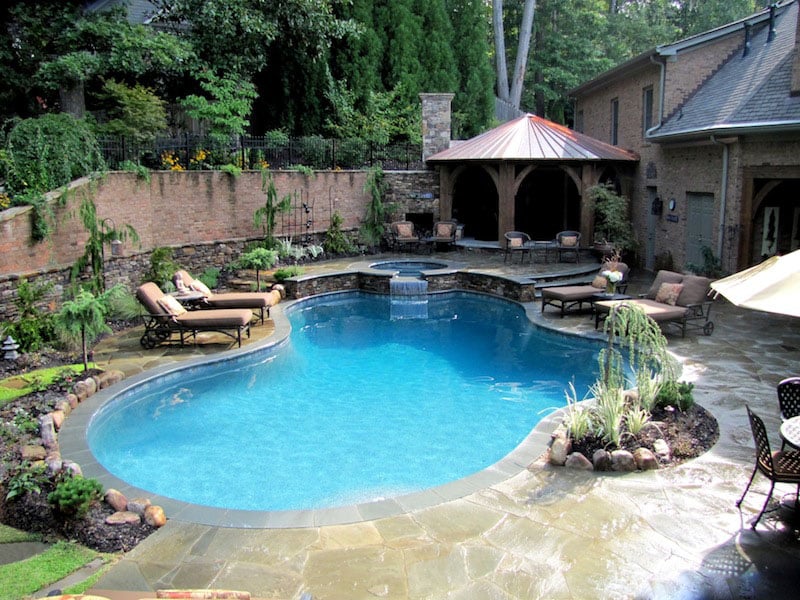 The Benefits of Timely Pool Repairs
Even seemingly small issues should be addressed as soon as possible. For starters, several small issues, when lumped together, can cause a big problem for pool owners. Secondly, as the old saying goes, a stitch in time saves nine. While not directly related to pool repairs, the sentiment still holds true. Addressing small repairs in a timely manner will help prevent them from becoming BIG, costly issues down the road. So do yourself a favor and call Elite Pools today.
Swimming Pool Repairs throughout Maryland and East Coast
Whether it is a minor pool liner repair or a problem with your swimming pool equipment, it is no problem for Elite Pools' swimming pool repair experts. Our team specializes in a variety of pool repair issues, including leak detection, liner repair and replacement, filter repair and replacement, pump repair and replacement, significant renovations, and more. Our expert spa and swimming pool repair technicians will treat your pool as if it were their own, giving you the professional service and knowledgeable advice that you've come to expect from Elite Pools.
Get Started!
Since 1959, Elite Pools has worked with clients throughout Maryland, Washington, DC, and the Mid-Atlantic region. We are a proud member of both the Association of Pool and Spa Professionals and the Better Business Bureau with an "A+" rating.
Pool Repair Services in Maryland
Since 1959, Elite Pools have striven to be the Mid-Atlantic's premier home pool design company, specializing in the design and construction of residential and commercial in-ground pools and spas. Whether you are building a new pool at your home or renovating your existing pool, we have the knowledge and expertise to deliver elegant, long-lasting swimming pool designs combined with resilience and durability.
Elite Pools can help make your dreams a reality. We use 3D modeling software to help you create a pool that not only fits your style and budget but also your landscape.
Choose from a variety of styles:
Vanishing Edge Pools
Free Form Pools
Interactive Play Pool Features, Such as Water Slides
Water Features and Rocks
Walk-in Pools
Lap Pools
Diving Pools
Spas
Pebble Tec® finishes
If you are ready to schedule your spring pool installation in Annapolis, MD, or the surrounding area, or would like more information on in-ground pools or other pool maintenance, then you've come to the right place. Please contact Elite Pools by calling 1-800-277-0254. One of our in-house licensed pool contractors will be more than happy to answer any questions you may have. We believe in putting the customer first!