It's that time of year where most of us abandon the thought of the pool, and instead warm up to the thought of the hot tub. However, you shouldn't ignore your luxury pool all winter. If you want it to be in excellent shape for summer, there are a few pool maintenance steps you should take over winter in Hunt Valley to keep your pool ready for swimming in the summer.
Pool cover
You should be making sure your pool cover is clean the entire season to prevent debris from causing tears or weighing down the cover. Although most pool covers are pretty hardy, neglecting pool maintenance for your pool cover all winter while leaves, sticks, snow, ice, and other debris make a mess is not a good idea.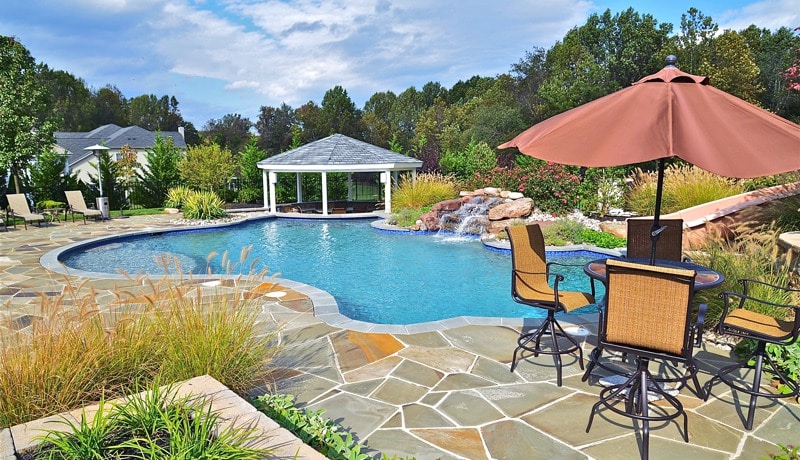 Check your chemicals
Check your winterizing chemicals again once before the temperatures start dropping to freezing. Fall can bring a lot of moisture and other elements which encourage the growth of algae, so it may not hurt to add a little more algaecide and chlorine before the weather gets nasty. Making sure your chemicals are keeping your pool clean is an important step of pool maintenance.
Enzyme chemicals
In addition to chlorine and algaecide, consider using enzyme chemicals when the water isn't frozen to clean non-organic materials. This will help prevent the development of a 'pool ring' that would need to be scrubbed come spring. Enzyme chemicals work to take care of anything chlorine and algaecide may not in your pool maintenance routine.
Exquisite Luxury Pools Built for Your Chevy Chase Home
Since 1959, Elite Pools has striven to be the Mid-Atlantic's premier home pool design company, specializing in the design and construction of residential and commercial in-ground pools and spas. Whether you are building a new pool at your home or renovating your existing pool, we have the knowledge and expertise to deliver elegant, long-lasting swimming pool designs combined with resilience and durability.
Elite Pools can help make your dreams a reality. We use 3D modeling software to help you create a pool that not only fits your style and budget, but also your landscape.
Choose from a variety of styles:
Vanishing Edge Pools
Free Form Pools
Interactive Play Pool Features, Such as Water Slides
Water Features and Rocks
Walk-in Pools
Lap Pools
Diving Pools
Spas
Pebble Tec® finishes
If you are ready to schedule your spring pool installation in Annapolis, MD or the surrounding area, or would like more information on in-ground pools or other pool maintenance, then you've come to the right place. Please contact Elite Pools by calling 1-800-277-0254. One of our in-house licensed pool contractors will be more than happy to answer any questions you may have. We believe in putting the customer first!