Montgomery County has the luxury of all four seasons, but summers can get uncomfortably hot. When mid-July rolls around, everyone is looking for relief from the unforgiving weather. That's what makes in-ground pools so valuable. They're enjoyed by family and friends of all ages, they're attractive, and they're an at-home oasis during the sweltering summer heat.
If your Columbia, MD home doesn't currently have an in-ground pool, now is the time to start thinking about installing one this spring—BEFORE the sidewalks starts sizzling! There are many ways in-ground pools add value to your home, making them a smart (and fun) investment.
Homes with Pools Sell for More – Period
Having an in-ground pool always increases the resale value of the house. It's an addition that anyone can enjoy, and it's often sought after by home buyers. If you're planning on selling your home in the next few years, or even just want to make valuable improvements, the best investment you can make is the pool. No one is going to see a beautiful in-ground pool and think, "Aww man. I don't want to take a nice dip in that this summer!"
In-Ground Pools Look Better than Above-Ground Pools
They just do, every time. Above-ground pools may be a little cheaper, but they tend to look cheap as well. A well-constructed in-ground pool is pleasing to the eye, while above-ground pools tend to be an eye sore sitting on the lawn. Eye sores do not increase value. Both of them provide a means of escaping from the heat in the summer, but you won't have any benefits beyond that with above-ground pools. Plus, it's a hassle to set up an above-ground pool; why go through all that trouble?
Impress Your Neighbors and Friends
If you want your friends, neighbors and co-workers to truly enjoy an invite to your home this summer, an in-ground pool is a great means of entertainment. You can host events and celebrations around it, relax by it, play fun games in it (water volleyball, anyone?), and more! In-ground pools add value to your home not only financially, but entertainment-wise as well. Chatting in the living room is fine, but when the weather is nice and everyone wants to be outside, in-ground pools provide that opportunity.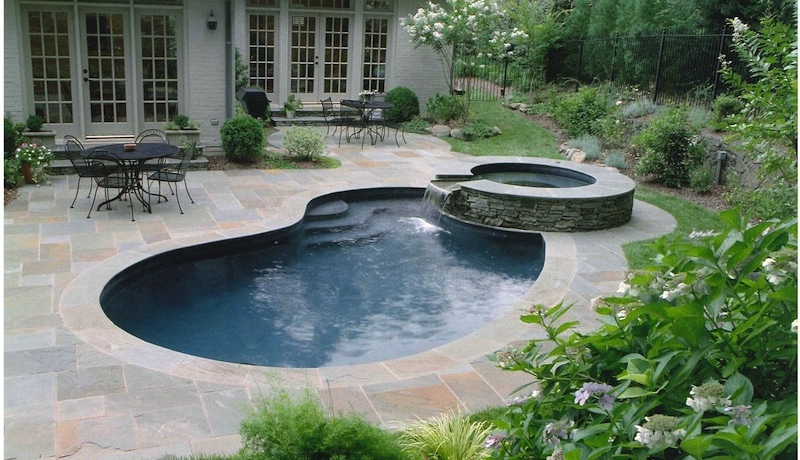 Columbia, MD Pool Contractor
Since 1959, Elite Pools has striven to be the Mid-Atlantic's premier home pool design company, specializing in the design and construction of residential and commercial in-ground pools and spas. Whether you are building a new pool at your home or renovating your existing pool, we have the knowledge and expertise to deliver elegant, long-lasting swimming pool designs combined with resilience and durability.
Elite Pools can help make your dreams a reality. We use 3D modeling software to help you create a pool that not only fits your style and budget, but also your landscape.
Choose from a variety of styles:
Vanishing Edge Pools
Free Form Pools
Interactive Play Pool Features, Such as Water Slides
Water Features and Rocks
Walk-in Pools
Lap Pools
Diving Pools
Spas
Pebble Tec® finishes
If you are ready to schedule your spring pool installation in Columbia, MD or the surrounding area, or would like more information on in-ground pools or other pool maintenance, then you've come to the right place. Please contact Elite Pools by calling 1-800-277-0254. One of our in-house licensed pool contractors will be more than happy to answer any questions you may have. We believe in putting the customer first!