You may have your swimming pool ready for winter, but have you taken care of your pool deck repair needs before winter hits in Baltimore? Many pool owners find they need extensive deck repairs in the spring if they didn't take care of problems before the winter. You don't want to have to delay your pool opening because your pool deck is unsafe and needs repairs.
Concrete Pool Decks Need Repairs
Sometimes, it's easy to forget that our concrete pool decks may need repairs. Concrete is such a durable material that it seems indestructible, but it can wear down just like any other material. If you have young children or pets, you don't want to risk their safety by cracks forming in your pool deck. If you have any other pool repairs that need to be finished before winter, also make sure that pool deck repair is addressed at the same time.
Pool Deck Repair Before Winter
We can't stress enough that it's very important to schedule pool deck repair before winter. While we may not have it as bad as some other cities, Baltimore is known for pretty harsh winters from time to time. If concrete is above the frost line, it can cause your pool deck to crack and warp. The initial crack in your pool deck may start off small, but it could turn into a much larger problem as winter really kicks in.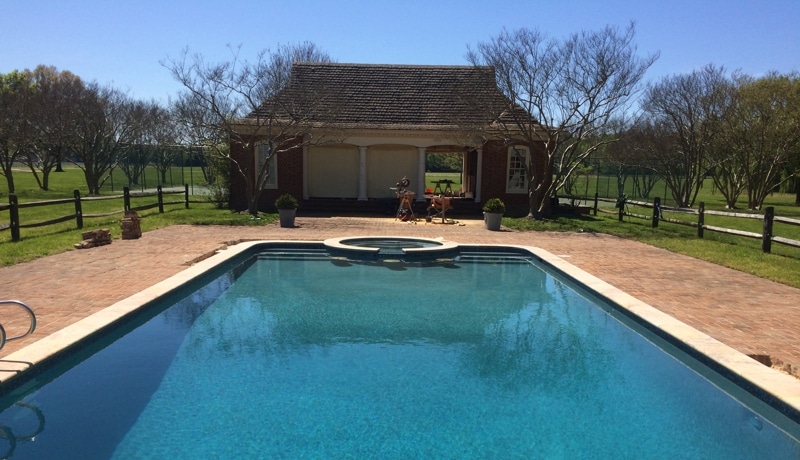 Elite Pools' Swimming Pool Repair
If you're trying to wrap up all your pool repair needs before winter, look no further than Elite Pools. Pool repair services include, but are not limited to:
Pool Leak Detection
Vinyl Pool Liner Repair
Vinyl Pool Liner Replacement
Pool Filter Tests
Pool Filter Repair
Pool Filter Replacement
Pool Pump Tests
Pool Pump Repair
Pool Pump Replacement
Swimming Pool or Spa Equipment Testing, Repair, or Replacement
Our friendly staff of experts is ready to help you with all your pool repair needs before the harsh Baltimore winter arrives.
Exquisite In-Ground Pools for Your Baltimore, MD Home
Since 1959, Elite Pools has striven to be the Mid-Atlantic's premier home pool design company, specializing in the design and construction of residential and commercial in-ground pools and spas. Whether you are building a new pool at your home or renovating your existing pool, we have the knowledge and expertise to deliver elegant, long-lasting swimming pool designs combined with resilience and durability.
Elite Pools can help make your dreams a reality. We use 3D modeling software to help you create a pool that not only fits your style and budget, but also your landscape.
Choose from a variety of styles:
Vanishing Edge Pools
Free Form Pools
Interactive Play Pool Features, Such as Water Slides
Water Features and Rocks
Walk-in Pools
Lap Pools
Diving Pools
Spas
Pebble Tec® finishes
If you are ready to schedule your spring pool installation in  Baltimore, MD or the surrounding area, or would like more information on in-ground pools or other pool maintenance, then you've come to the right place. Please contact Elite Pools by calling 1-800-277-0254. One of our in-house licensed pool contractors will be more than happy to answer any questions you may have. We believe in putting the customer first!