Maryland may not be home to long summers and year-long warm weather, but Maryland residents and tourists do still love pools. So it's no wonder why so many local businesses – hotels, motels, gyms, and apartment complexes – invest in pools to help attract customers, tenants, or guests.
Commercial Pool Construction in Maryland
Our commercial division includes a team of seasoned spa and pool design experts and engineers with more than 50 years of experience. Over the years, we have served several commercial clients, including
Major Hotels
Exclusive Resort Properties
Residential Complexes
Athletic Centers/Swim Teams
Community Swimming Pools
Fountain Pools and Park Areas
Municipal Pools
Elite Pools will work closely with you to ensure your dreams become a reality. Of course, as Uncle Ben told a young Peter Parker, "With great power comes great responsibility." A pool is a commitment, as it requires constant maintenance and occasional repairs. Fortunately, Elite Pools can handle that as well.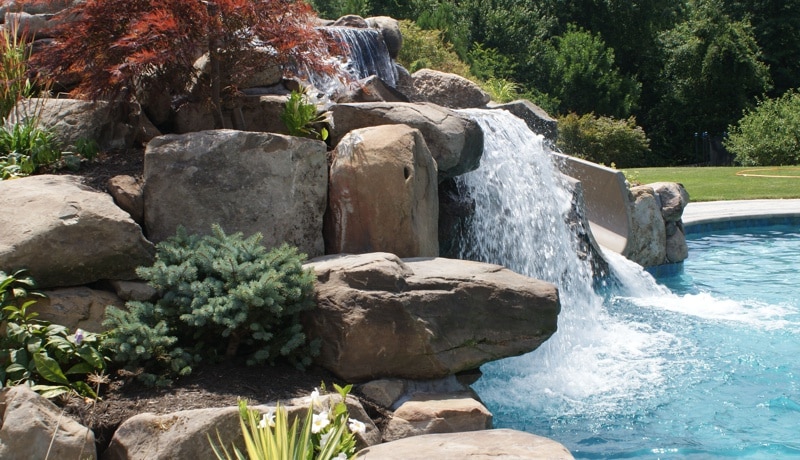 Commercial Pool Maintenance and Repair
Proper swimming pool maintenance requires the combination of a number of physical and chemical processes. Elite Pools offers different pool care plans to choose from, including pool winterizing. Each includes balancing the water chemistry, cleaning and vacuuming, servicing the filter, and providing documentation for all pool care services performed.
Pools in Maryland – well, pools almost anywhere – are subject to several maintenance issues: cracks in the pool deck, tears in the pool liner, and equipment malfunction. Whether it is a minor pool liner repair or a problem with your swimming pool equipment, it is no problem for Elite Pools. We specialize in a variety of pool repair issues.
Commercial Landscaping
A commercial pool is just a pool, but a well-designed outdoor (or indoor) environment is an entire experience. Aside from building and maintaining commercial pools, Elite Pools also handles hardscaping and landscaping.
Commercial Pools in Maryland
Since 1959, Elite Pools has striven to be Maryland, D.C., and Virginia's premier residential and commercial pool design company. Whether you are building a new pool at your home or renovating your existing pool, we have the knowledge and expertise to deliver elegant, long-lasting swimming pool designs combined with resilience and durability.
Elite Pools can help make your dreams a reality. We use 3D modeling software to help you create a pool that not only fits your style and budget but also your landscape.
Choose from a variety of styles:
Vanishing Edge Pools
Free Form Pools
Interactive Play Pool Features, Such as Water Slides
Water Features and Rocks
Walk-in Pools
Lap Pools
Diving Pools
Spas
Pebble Tec® finishes
If you are ready to schedule your spring pool installation in Annapolis, MD, or the surrounding area, or would like more information on in-ground pools or other pool maintenance, then you've come to the right place. Please contact Elite Pools by calling 1-800-277-0254. One of our in-house licensed pool contractors will be more than happy to answer any questions you may have. We believe in putting the customer first!