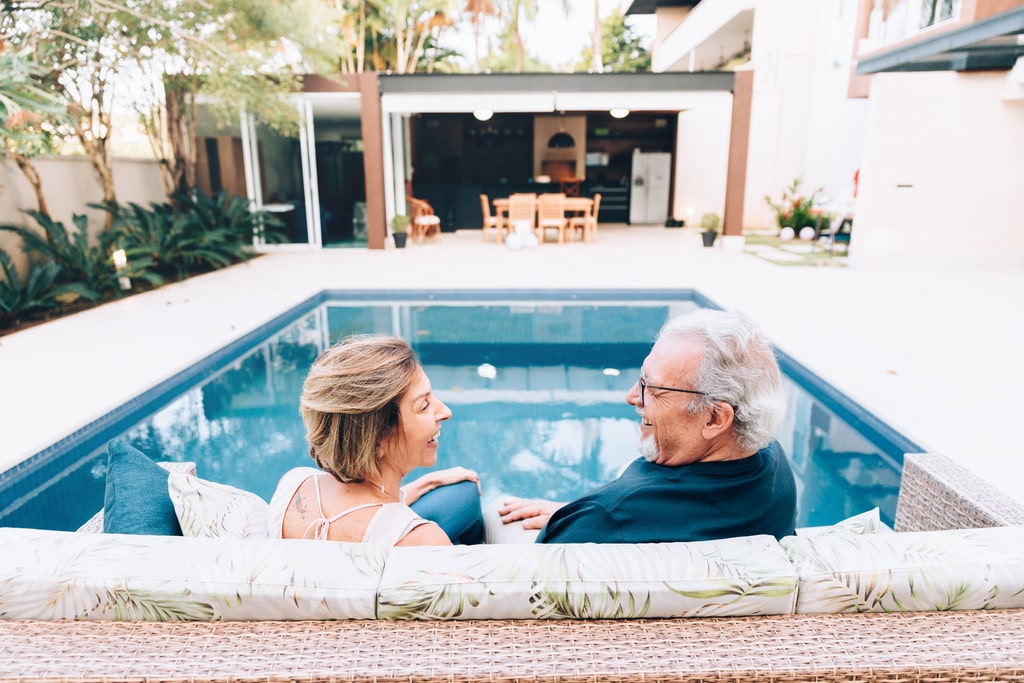 When most homeowners think about backyard pools, they envision a pool shape that is square or rectangular. Many property owners are not aware that the option to create a custom pool design is on the table. Sadly, many people settle for a design that is either uninspired or less satisfying. 
With Elite Pools, you have many options for custom-building your pool shape and overall layout. Where do you begin with the design? Below we look at six items to consider that help you choose the best pool shape for your backyard pool.
1. Pool Size and Square Footage
Pool size is always one of the first things you consider when designing your pool. The pool size depends on factors such as yard space, family size, pool use, and your budget. Once you calculate the pool size that meets your needs, you can think about the shape. 
Larger pools allow you to be more flexible with the shape and dimensions. However, smaller pools are a bit easier to design. They are also easier to position in the yard. So, meet with your pool installer to determine which pool size is the best for your home. From there, you can begin putting the finishing touches on your pool shape and overall design. 
2. Hardscape Layout
Few pools exist on their own. Most homeowners adorn their backyard pool with a hardscape as a concrete patio or wood deck. 
When designing your pool shape, you must consider the overall backyard layout – not just the pool itself. Hardscape can add several square feet to the design, which you will need to calculate. How much decking or patio area do you want? Will the patio function as a recreational area apart from the pool? What features will you add to the patio? 
Answering these questions in advance will give you a clearer picture of the pool shape and how it fits into the backyard design.
3. Creating a Cohesive Property Design
Your pool is not an isolated element in your backyard, as it is part of a design concept that should be cohesive. The pool design should match your home exterior, patio, landscape, and other elements throughout the yard. It should be a natural, organic extension of your home.
Consider design elements such as color, texture, and style when choosing your pool shape. You should match your pool accordingly if you have a modern home with solid colors and clean layouts. You may want to enlist the help of an interior decorator to guide you through the process. Also, consult your pool contractor, who can review your design options. 
By working with pool professionals during the design phase, you are more likely to be satisfied with the results after you complete the project.
4. Pool Activities
What are your favorite pool activities? Are you looking forward to relaxing with a cool drink? What about some sporting activities such as pool volleyball? Maybe you want to swim laps every morning before heading out to work. Your preferred activities will dictate the pool shape regardless of what you plan to do in your pool. 
For example, if you plan to swim laps, you may want a pool with a long rectangular shape. If you have children, you may consider a hybrid L-shaped pool designating one area for kids and one for adults. The bottom line is that you want a pool that can accommodate your activities. 
5. Budget
Pool shape directly influences the cost of building it. The exterior edge of a pool requires more steel rebar, tile, coping materials, concrete, and the required labor for installation. That means the cost may be higher. Curved shapes are usually a better way to maximize square footage—the area you swim in —on a limited budget.
The direction of the curve does not matter. A basic kidney-shaped pool may cost roughly the same whether it bubbles outward or inward. The resulting total perimeter footage remains the same. The takeaway here is: In some cases, you can achieve flexibility with a curvy design without increasing the cost.
However, don't rule out various straight-edge pools or geometric pools! They offer other benefits that may be just as important to you. Sometimes, these shapes may be better for your ultimate pool goals and other factors.
6. Features
Think about the structural and decorative features you want to include in your pool project. An attached hot tub will change the shape of your otherwise plain rectangle, for example. If you want a water feature, what "look" do you like—a formal fountain, rock waterfall or something else? 
Kidney shapes offer opportunities to add bench seating or a tanning ledge at the indentation point. Rectangular pools are very versatile in terms of ledges and in-pool seating. Would a slide look better with a kidney or free-form pool in your yard?
Schedule Pool Installation with Elite Pools
If you are ready to install a pool in your backyard, we are ready to help. Elite Pools is your preferred swimming pool contractor in the Mid-Atlantic region. Contact us today and let us install or renovate your residential or commercial pool. 
Please fill out our contact form or call us today for a free consultation or quote.