With the weather in Gibson Island, Maryland noticeably colder these past few weeks, NOW is the perfect time to start planning spring pool installation. Wait, what? While it may seem odd to think about a new pool with winter right around the corner, late fall and early winter are the ideal times to start planning. This gives you ample time to settle on a design, collect estimates and find a pool contractor, and save money.
Take Advantage of the Weather
Maryland is not known for year-long warm weather, so homeowners only have a smallish window to truly enjoy their pools – Memorial Day to Labor Day, give or take a couple weeks on either side. Planning your pool installation now will help ensure your new pool will be ready when swim season rolls around. Conversely, if you wait until spring to start planning, you may find that most pool contractors are booked solid and you will not be able to schedule your pool installation until late spring or even summer, drastically shortening your already limited swim season.
Increased Home Value
There's no time like the present to begin investing in your home's future value. There's not time like the present to start planning for your new pool. In addition to the hours of enjoyment you'll get, you will also see an impressive hike in home value. Money Magazine found that the addition of a swimming pool adds a 20-50 percent resale value to a home.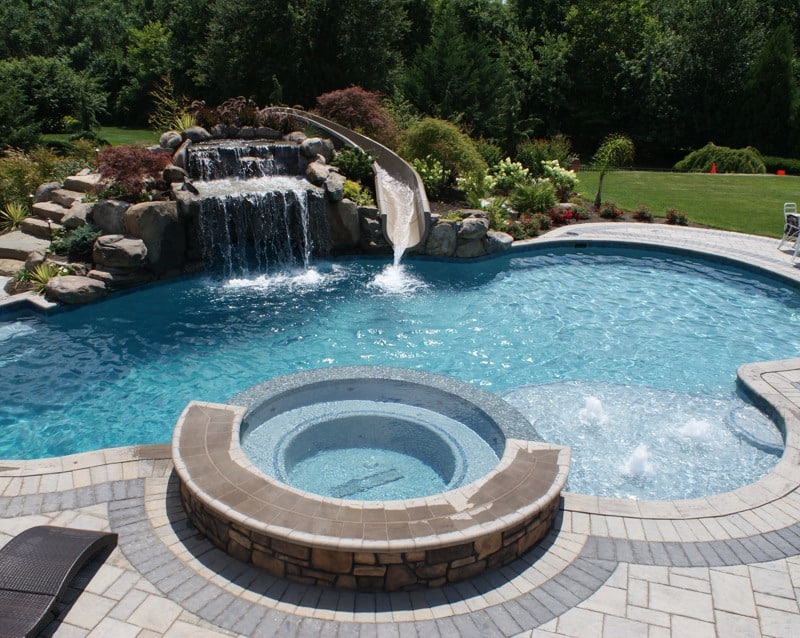 Gibson Island Pool Contractor
Since 1959, Elite Pools has striven to be the Mid-Atlantic's premier home pool design company, specializing in the design and construction of residential and commercial in-ground pools and spas. Whether you are building a new pool at your home or renovating your existing pool, we have the knowledge and expertise to deliver elegant, long-lasting swimming pool designs combined with resilience and durability.
Elite Pools can help make your dreams a reality. We use 3D modeling software to help you create a pool that not only fits your style and budget, but also your landscape.
Choose from a variety of styles:
Vanishing Edge Pools
Free Form Pools
Interactive Play Pool Features, Such as Water Slides
Water Features and Rocks
Walk-in Pools
Lap Pools
Diving Pools
Spas
Pebble Tec® finishes
If you are ready to schedule your spring pool installation in Gibson Island or the surrounding area, or would like more information on in-ground pools or other pool maintenance, then you've come to the right place. Please contact Elite Pools by calling 1-800-277-0254. One of our in-house licensed pool contractors will be more than happy to answer any questions you may have. We believe in putting the customer first!