Spring is well underway here in the Mid-Atlantic. The flowers are in bloom, the birds are chirping, and the temperature is finally starting to warm up. And with winter way in the rearview mirror, it is time to start thinking about pool parties and lazy summer days out by your pool. The only problem: your pool needs a little TLC. So instead of grabbing your feather duster and vacuum this spring, perhaps pool renovations should be at the top of your spring cleaning checklist.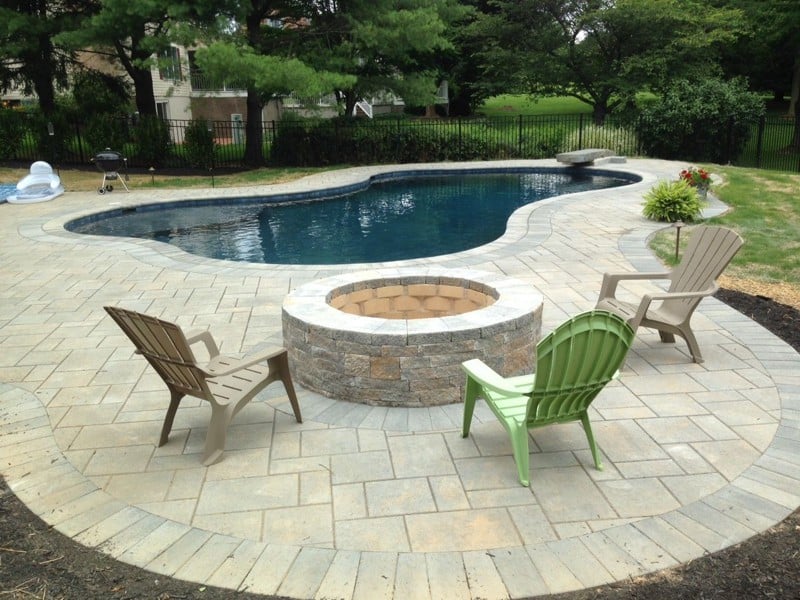 Spring Cleaning and Pool Renovations
A quality in-ground pool can last for decades…with regular preventive maintenance. Even then, the best pool will not last forever. Eventually, pool renovations are in every pool owner's future. Sooner or later, every pool needs some major work done, whether it be purely aesthetic (deck resurfacing) or practical (liner replacement). Either way, renovations will need to take place and spring is the perfect time to address such needs. After all, Memorial Day – the time when most homeowners, business owners, and apartment complexes open their pools for the season – is right around the corner.
Do I Need Pool Renovations?
Increased Maintenance Costs
If your pool is not operating as efficiently as possible, it could be increasing your monthly maintenance costs. Pool renovations can help lower maintenance costs and allow you to better enjoy your pool.
Pool Safety Concerns
Safety becomes a major concern with older pools. Pool safety concerns can manifest in several different ways: cracks to the pool deck, equipment issues, pool leaks, and more. Each issue not only puts your friends and family at risk of injury, but puts you at risk for a costly lawsuit.
Pool Age
The longer you put off renovations, the more it will cost you to repair or rebuild.
Pool Materials Are Worn Down
Pool materials, such as the liner or decking, are worn down, or equipment (pump, filter, plumbing) needs an overhaul.
Common Pool Renovations
Deck resurfacing
Liner Replacement
Pool Cover Replacement
Diving Board Replacement or Addition
Water Feature Addition
Equipment Maintenance and Upgrades
Pool Lighting Upgrades
And More!
Pool Renovations with Elite Pools
Since 1959, Elite Pools have striven to be the Mid-Atlantic's premier home pool design company, specializing in the design and construction of residential and commercial in-ground pools and spas. Whether you are building a new pool at your home or renovating your existing pool, we have the knowledge and expertise to deliver elegant, long-lasting swimming pool designs combined with resilience and durability. FREE Quote!
Elite Pools can help make your dreams a reality. We use 3D modeling software to help you create a pool that not only fits your style and budget but also your landscape.
Choose from a variety of styles:
Vanishing Edge Pools
Free Form Pools
Interactive Play Pool Features, Such as Water Slides
Water Features and Rocks
Walk-in Pools
Lap Pools
Diving Pools
Spas
Pebble Tec® finishes
If you are ready to schedule your spring pool installation in Annapolis, MD, or the surrounding area, or would like more information on in-ground pools or other pool maintenance, then you've come to the right place. Please contact Elite Pools by calling 1-800-277-0254. One of our in-house licensed pool contractors will be more than happy to answer any questions you may have. We believe in putting the customer first!
Follow Elite Pools on Facebook for more exciting updates